LTL Blog

Lineman's Testing Laboratories of Canada
---
Falls from heights are one of the leading causes of serious injury, disability, and even death in the workplace
March 04, 2014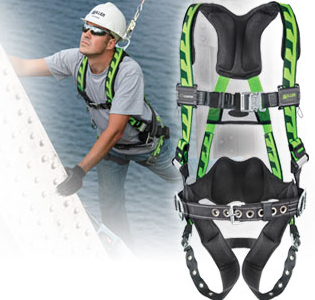 The consequences of working without the proper fall protection equipment is immediate and serious. Approximately one in seven workplace fatalities are due to a fall from heights.

According to the Ontario Ministry of Labour (MOL), workers shall have the appropriate fall arrest equipment when working at heights over 3 metres, or on scaffolds over 2.4 metres.
Are you properly protected? As a worker, you need to ensure you protect yourself; as an employer, you need to protect yourself from liability by ensuring your workers are properly equipped.
In a recent blitz by the MOL*, the most commonly issued order was for employers' failure to ensure workers wore adequate personal protective equipment for working at heights. Ensuring you have the proper equipment that has been properly inspected is step one to ensuring your safety.

At LTL Utility Supply, we carry both non-arc rated and arc-rated fall arrest harnesses and related equipment. From full body harnesses to shock-absorbing lanyards, we have the equipment to support you when working at heights.
According to industry best practices, it is recommended that field inspection of equipment be performed prior to each use in addition to being certified annually.
LTL's Honeywell-certified technicians offer inspection of harnesses, ropes, and slings to ensure the integrity of your fall arrest gear, so that you can rely on your equipment when you need it most.
Visit http://www.ltlutilitysupply.com/products/personal-protection/fall-protection to see our great lineup of products for Fall Protection or contact our product specialists for more information: 416-742-6911, main@ltl.ca.
Comments:
Be the first to comment on this blog!
Leave a Comment
Your comment will go through an approval process and may not be visible to the public right away.
Prev
Next