FIELD SERVICES
Field Testing & Commissioning
Lineman's Testing Laboratories' Power Technical Services team includes Professional Engineers and Certified Engineering Technologists. The approach we take on commissioning does not stop at equipment testing. We review the entire design philosophy and functionality to ensure the final system will operate correctly.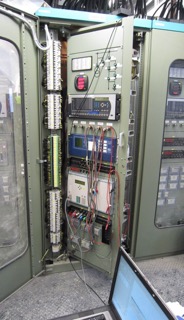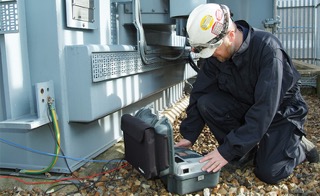 Power Equipment Testing
Circuit Breakers - air, oil, vacuum, SF6
Transformers
Power Cables
Air and Load Break Switches
Switchgear
Gas Insulated Switchgear (GIS)
Instrumentation Transformers - PTs, CT, CVTs
Grounding Systems
Load Centres
DC Systems - Battery Banks, Chargers
Protection Relay Testing & Calibration
All Protection Relay Types and ANSI Functions:

Transmission Line
Breaker
Bus
Transformer
Feeder
Generator
Capacitor Banks

Disturbance Recordings/SER Relays
Microwave/Free-Wave Radio Communications Equipment
SCADA/RTU Systems
End-to-End Testing - Tele-Protection Schemes, Telemetry
Tripping Devices
As-Built Redline Drawings
Factory/Site Acceptance Testing
Protection System Functional Testing
HONI "COVER" Sign-Offs
Outage Planning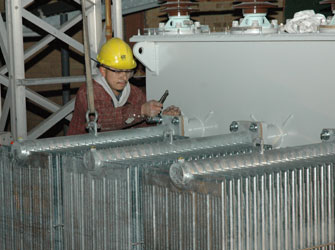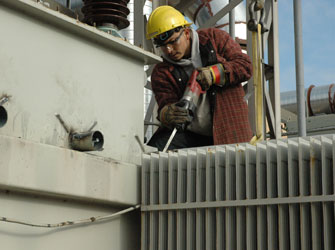 Transformer Repair
Trusted since 1958, Lineman's Testing Laboratories' skilled technicians perform on-site transformer repair and transformer testing services. Our on-site transformer maintenance and repair services include:
Complete transformer commissioning and transformer testing services
Transformer assemble/disassemble, transportation
Fin replacement
Bushing replacement
Tap changer maintenance, repair and replacement
Oil leak termination
Painting
New unit specification, supply and installation
Mobile Transformer oil regeneration
Rewind service (shop only)
Servicing transformers from 500kVA to 100MVA, we offer the same level of service whether repairing a specific component of the unit or the complete transformer. LTL electrical technicians evaluate the transformer electrically and mechanically. Our large inventory of quality surplus, new and used equipment includes transformers, switchgear, fuses, lightning arrestors, insulators, towers, poles and other related equipment available for sale and immediate delivery. LTL's extensive inventory allows for quick repairs when required, and our generator rentals offer temporary power solutions for unplanned power outages, as well as emergency call-outs. With direct access to an expanse supplier network, we have the right equipment to get the job done efficiently with minimal downtime.
To ensure longer transformer life and reduce the risk of dielectric breakdown, LTL recommends maintaining your transformer's insulating oil properties for optimum performance. By maintaining a high oil quality, the transformer is able to perform to its original design specification regarding over-voltage, harmonics, heat, and fault current.
Lineman's Testing Laboratories' environmentally-friendly mobile Transformer Oil Regeneration Plant was specifically designed and built by a renowned industry leading manufacturer of Transformer Oil Regeneration systems to regenerate insulating mineral oil in energized or de-energized transformers, as well as on a tank-to-tank basis. The system uses a special blend of Fuller's Earth Clay that is permanently installed in a set of columns and the oil is directed through the columns by forced percolation. In order to ensure a high degree of control and reliability, the system is controlled by a programmable logic controller and monitored/interfaced by a computerized supervisory system, which monitors and records all vital operating parameters.
New and in-service transformers develop and/or have moisture, solid particles, and acidity. If not maintained at acceptable levels, transformer failure and/or drastically reduced transformer life will result. Our mobile processing unit connects directly to your on-site transformer and can process on- or off-line. This is the only type of process which guarantees maximum contamination removal of all internal components (core and coils). LTL's mobile unit polishes the oil to a quality that cannot be achieved by replacing the oil with new. Our system is capable of replacing inhibitors in the oil which protect against oxidization of internal components thereby allowing the transformer to perform to its manufacturer design criteria.
Regardless of the work performed, LTL takes great pride in using only quality parts and ensuring your transformer is working efficiently and is back online as quickly as possible.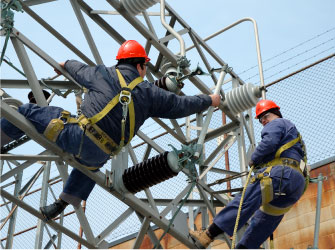 Substation Maintenance
Lineman's Testing Laboratories' preventative substation maintenance programs are unlike those offered by other companies offering substation maintenance. We provide our customers with the confidence knowing their power system is operating properly, ensuring performance reliability and personnel safety.
LTL offers customized maintenance programs to suit our customer's budgetary and operational requirements, while ensuring all applicable regulatory and legislated requirements are met. All substation maintenance services are directed and performed by LTL's in-house experienced certified technicians, and include:
testing and calibration;
inspection;
adjustment;
cleaning;
repair and;
analysis of electrical insulating fluids
as required of high and low voltage electrical and mechanical components. As well, LTL offers transformer commissioning.
LTL's extensive inventory of new and used transformers, switchgear, fuses, lightning arrestors, insulators, towers, poles and other related equipment is available for immediate sale and delivery. Our ability to pull from this inventory allows for quick repairs when required, and our generator rentals offer temporary power solutions for unplanned power outages, as well as emergency call-outs.
A detailed engineering report summarizing any deficiencies noted per applicable legislated standards and codes, as well as recommendations for repair to maintain a reliable service, is provided after service. All data collected is recorded for historical reference and is used to monitor the electrical system's overall performance from year-to-year.
As a precursor to the substation maintenance service, LTL recommends infrared scanning (infrared thermography) of electrical equipment to detect electrical and/or mechanical hot-spots signalling possible equipment weakness or failure. Infrared scanning is performed by LTL's certified infrared thermographers one month prior to the scheduled substation maintenance date, allowing LTL technicians to include in the maintenance program whatever repairs are required as identified in the infrared scan report.
Early detection of electrical equipment weakness or potential hazard through annual substation maintenance helps to keep operational and associated costs to a minimum, extend the life of the electrical system, and improve safety conditions for electrical system operating personnel.
Call Lineman's Testing Laboratories and speak to an Electrical/Substation Division Representative for a substation maintenance program tailored to your budget and operational requirements.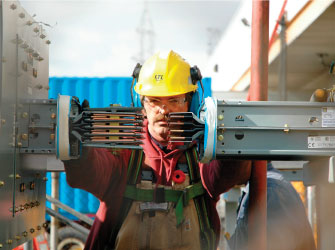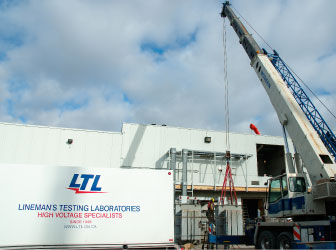 Substation Installation
Design, specify and build to order, LTL has the in-house technical expertise to support the most complex electrical projects.
Performing substation installations since 1967, Lineman's Testing Laboratories offers turn-key main power electrical systems from traditional H-frame substation design projects to padmount designs, tamperproof equipment, polemount designs and mezzanine style transformer locations.
Whether upgrading and retrofitting an existing facility or installing a new service, LTL partners with our clients to tailor solutions best suited to system performance requirements. We offer the services of our in-house Electrical Engineering Team, or will work with your engineering firm to execute specified electrical requirements from substation design to substation construction.
Lineman's Testing Laboratories appreciates the importance of timely execution of all projects. With this in mind, LTL has engineered a comprehensive inventory to ensure expedient delivery of equipment and materials. We stock high quality surplus, new and used high and low voltage substation equipment including new and used transformers, switchgear, fuses, lightning arrestors, insulators, towers, poles and other related equipment for sale, and benefit from direct access to a broad supplier network. LTL's extensive inventory allows for timely repairs when required, and our generator rentals offer temporary power solutions for unplanned power outages, as well as emergency call-outs.
We enjoy close working relationships with the public utilities and Electrical Safety Authority (ESA) resulting in efficient documentation approvals.
LTL provides cost-effective solutions for your power supply needs while providing expedient delivery of products and services with minimal production interruption during installations. On-time completion of projects is guaranteed, and all substation installations comply with municipal and provincial authority regulations.
Servicing all your substation construction needs:
Transformer installations and commissioning
All high voltage cable work
Tower design and erection
All methods of terminal pole construction
Overhead line construction
All forms of underground line construction
High ampacity electrical equipment and service work for commercial, industrial and utility applications
All civil work related to the above services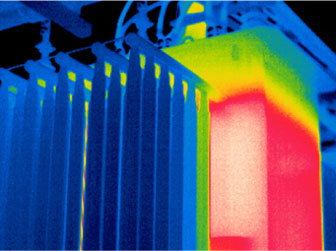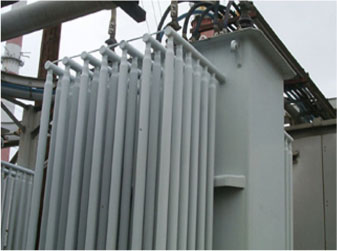 Infrared Thermography
Improve plant safety, prevent costly downtime, reduce operating costs, and increase reliability
All Infrared Scanning (Infrared Thermography) programs are NOT the same. Utilizing the services of a certified Electrician who also has a license in infrared Thermography ensures that infrared scanning has been performed by a technician who understands the effects of the hot spots captured on camera. This is of utmost importance when determining what hot spots are critical to on-going equipment performance from those which are less immediate and can be addressed during regular annual preventative maintenance. Enjoy the peace of mind afforded by using the services of a technician certified in infrared Thermography who is also licensed to work with electrical apparatus.
Lineman's Testing Laboratories' on-site crews include staff who are fully certified in Infrared Thermography, licensed electricians, and technicians with the qualifications and expertise to conduct full and proper inspections of all electrical equipment by opening panels as required. Equipped and protected with the proper arc flash safety gear, our thermographers open panels thereby allowing for accurate identification of hot spot locations through thermal imaging. LTL technicians are then able to target the specific component requiring repair and/or replacement to prevent costly downtime due to equipment failure, or worse, operator injury.
Infrared Thermography, also known as Infrared Scanning, is a highly beneficial element to the preventative maintenance program. Infrared scanning accurately identifies potential electrical equipment problem areas such as faulty connections, poor contacts, phase imbalances and overload conditions requiring immediate attention, allowing for repairs before failure or damage occurs. Early detection aids in avoiding emergency repairs and the high cost of production line shutdowns. The infrared inspection is non-contact and non-destructive; therefore, there is no need to interrupt production or plan for costly shutdowns.
Thermography is the process of using an infrared imager to detect the heat that objects radiate as infrared energy which is proportionate to loads. Infrared energy is a portion of the light spectrum invisible to the naked eye. LTL's state-of-the-art infrared cameras detect electrical and/or mechanical hot-spots and record them into a picture format, clearly identifying these objects as heat images and measuring their temperature. By creating a thermogram, our skilled technicians obtain information from several points in the field view of the scanner in mere seconds. Because a hot connection can fail causing equipment damage and/or fire, infrared scanning is an essential component to an equipment maintenance program.
The information captured from the scan is provided in a detailed report including colour photos of equipment hot-spots. LTL recommends Infrared Thermography twice yearly under load for all electrical equipment in industrial and commercial environments where system reliability and continuous operation is essential.
Electrical apparatus faulting-to-ground, or phase-to-phase, can produce an explosive force with intense heat. Plant personnel and persons within the vicinity can be seriously injured. By minimizing electrical equipment failures, infrared scanning helps to reduce a potentially serious risk to your plant personnel.