LTL Blog

Lineman's Testing Laboratories of Canada
---
The PowerBack ― 9 reasons why it is the preferred temporary power restoration device
April 10, 2017

Whether it's residential or commercial, power outages can be frustrating for the customer as well as the utility company working to fix the issue. While the goal is to return power quickly and efficiently, finding the problem may take some time. A power restoration device is beneficial as it temporarily returns power, minimizing the impact to the customer, while providing you with the opportunity to find a permanent solution.
A device such as the Power Back is an ideal tool that provides a quick, convenient source of 240 volt power up to 20,000 kVA from one phase, and a good neutral or 120v service from two good phases. Although the Power Utility industry has access to various auto transformers, the many unique features of the PowerBack allows it to stand out from the rest.
PowerBack's unique features and benefits:
1. Lightweight: the PowerBack weighs 130 pounds
2. Versatile: The PowerBack can provide a solution for 95% of all residential applications that utilities encounter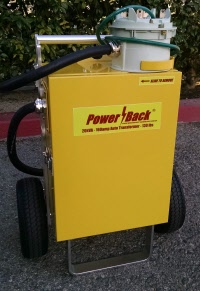 3. Compact: The collapsible handle means the PowerBack takes up little space
4. Foam-Filled Tires: Unlike competitor products, the PowerBack's tires are foam-filled. Air-filled tires lose air over a period of time while foam-filled tires take away any worry about leakage from punctures
5. Lockable Enclosure: The PowerBack's compartment is lockable which means it's less susceptible to getting wet and ensures small animals/insects cannot get in
6. Toroidal Transformer: Using this allows for a more compact and lighter unit
7. Improves Public Safety: Avoids the need to run temporary cables between customers when a phase is lost
8. Multi-Application Adapter: The PowerBack's adapter design is good for both a ringed application as well as a ring-less application ― not seen with most other similar products on the market
9. Saves Time and Money: Better price point and also provides same day temporary power restoration. No need to bridge or run shunts for residential customers who have lost one phase or the neutral to their home
Minimize downtime for your customer, and restore power fast with the PowerBack. For more information on the PowerBack, contact an LTL Product Specialist today.
Comments:
Be the first to comment on this blog!
Leave a Comment
Your comment will go through an approval process and may not be visible to the public right away.
Prev
Next