OVERVIEW
Lineman's Testing Laboratories is pleased to recommend this program as the most interactive, informative and easy to follow online electrical safety training system in the industry today!
This user friendly, online electrical training program offers a convenient, cost-effective solution for establishing safe work practices to ensure personal safety when exposed to energized electrical equipment. Whether at work, home or play, this Electrical Safety Training System (ESTS) has been specifically designed to suit the needs of the electrical and non-electrical worker.
The ESTS is a multi-media based, highly interactive experience comprised of several modules with multiple lessons, knowledge checks and a final assessment. The ESTS uses 3-D "Virtual Electrical Workplace" scenarios and a unique digital electrical classroom as a learning aid to teach concepts. Each module includes a knowledge check that utilizes interactive elements that engage the student in the learning process. The ESTS for electrical worker is a four-hour course incorporating industry accepted best practices standards, while the non-electrical course is 45 minutes.
With respect to due diligence against Occupational Health & Safety Regulations, the Electrical Safety Training System provides electrical hazard specific training related to the hierarchal preventive and protective control measures you need to apply as an employer and supervisor:
i. Eliminate the hazard, de-energize is the first choice;
ii. Substitute with other materials, processes or equipment;
iii. Reduce the risk by engineering design (e.g., engineering solutions, equipment solutions, "Safety by Design"). Ensure that adequate electrical equipment maintenance is performed and at an acceptable frequency;
iv. Use safer work systems that increase awareness of potential hazards (e.g., apply safe guards like signage, barriers, etc.);
v. Implement administrative controls (e.g., training and procedures); and
vi. Use Electrical Specific Personal Protective Equipment (PPE), Tools & Equipment as a last line of defense and ensure it is properly used and maintained.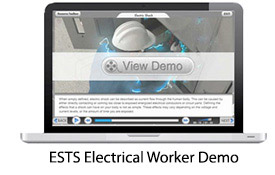 Electrical Worker
Students who take the ESTS learn how to:
Explain the regulations and industry best practice standards applicable to their role and responsibilities
Identify and understand electrical hazards and risk assessment
Effectively manage electrical hazards by following the Work Flow Process to safely execute energized electrical work
Complete electrical hazard analysis for a work task
Apply preventive and protective control measures
Understand requirements for electrical incident emergency response and incident reporting requirements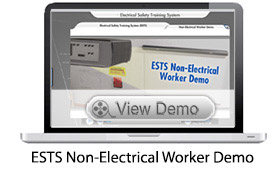 Non-Electrical Worker
Students who take the ESTS learn how to:
Explain the regulations and industry best practice standards related to electrical safety
Identify and understand electrical hazards and the difference between normal and abnormal conditions on energized electrical equipment
Learn a procedure for isolating electrical equipment
Use a Look, Listen and Smell philosophy when you approach energized electrical equipment
Learn about the risk of being shocked when using power tools, power cords and the need for GFCIs
Learn about Overhead Power Line safety
Understand requirements for electrical incident emergency response and incident reporting requirements