News & Events

Lineman's Testing Laboratories of Canada
---
Announcement: LTL Offers Arc Flash Clothing Cleaning & Repair Services
December 11, 2014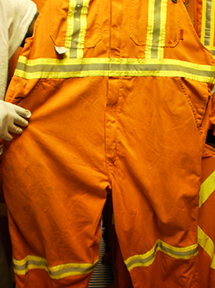 Lineman's Testing Laboratories is staying true to being a one-stop, turnkey utility/electrical solutions provider by adding another essential service – Arc Flash Clothing Cleaning & Repair.
"It was a natural addition to our line of services –" says LTL President, Rob Burgess, "now when customers bring in their PPE and other equipment for testing, calibration or repair, they can also drop off their arc flash parkas and coveralls for cleaning and repair. Everything can be dropped off at one time and picked up from one location."
Having the proper PPE and Arc Flash equipment is an important step in ensuring safety measures are in place. Equally important is to ensure that this equipment is properly maintained by regular cleaning, inspection and testing by a certified team with experience in testing and care of PPE.
Arc flash clothing maintenance doesn't have to be complicated. Keep items clean, check them for damage, keep track of how long items have been in active use and send your arc flash protective apparel in for professional cleaning when it is dirty. A good reminder is to send in your arc flash clothing, at minimum, after every season!
With over 56 years in the industry and extensive knowledge in inspecting, cleaning and testing of PPE - your equipment is in good hands with LTL.
Call an LTL Product Specialist today for more information, or to book your arc flash apparel cleaning and repair drop-off.
Prev
Next